7 Smart Benefits That Show the Efficiency of EMS Training
Are you into sports? Or do you like to stay fit? Do you want to improve your physical strength and stamina? No matter what your motivation is, you should totally try out the electrical muscle stimulation or EMS Training technique.
EMS devices have become quite popular across countries these days. More and more gyms are also investing in this kind of equipment to further increase muscle strength.
EMS will stimulate your nerves and induce muscle contractions twice as experienced during a workout. It is also used by many athletes to enhance their performance in any kind of sport.
If you want to want to know more about this form of training, here are a few amazing benefits you should read about that show the efficiency of EMS training. Take a look.
1. Save Time
In the hustle-bustle of our everyday lives, time is truly the greatest gift one can get. EMS training will provide you with this gift in the most generous manner possible. We are all restricted by the 24 hours in a day. Whatever we have to do, we will have to finish in these 24 hours. This can be extremely challenging.
Hence, people are always after things that can get the maximum results in a minimum time. EMS training will reward you with this gift of time. You can experience the effort of hours spent in the gym with only 20 minutes of EMS. EMS will work on all major muscle groups at the same time.
It saves the time you spend on conventional strength training methods and yet gives you a more efficient outcome.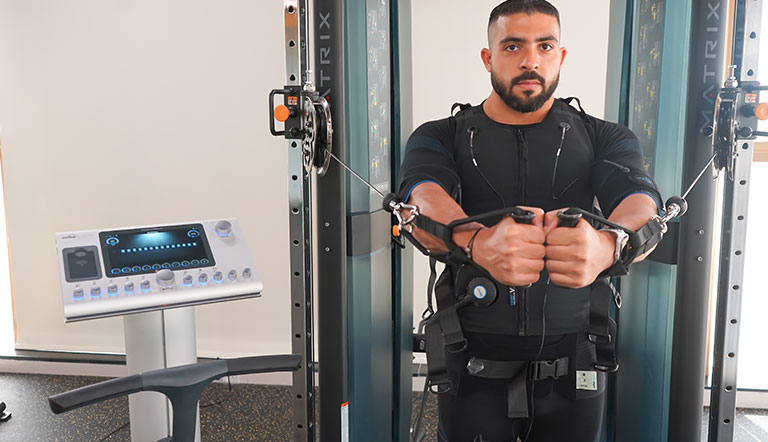 2. No Pressure on Joints & Skeletal Muscles
There are definitely some solid benefits of strength training. But you must have noticed that these put pressure on your joints and skeletal muscles, which can sometimes lead to injuries. EMS training works on the muscles through electrical stimulation, instead of weighted exercises.
This has wonderful benefits on your joints and skeletal structure, causing no extra burden on these. The workout intensity is determined by electrical stimulation and not imposed by the weights, which gets you the optimum results without burdening the joints and skeletal muscles.
3. Improves the Core Strength
If you are looking to increase your core strength at a rapid pace, EMS training can be the right option for you. The core is made of stomach muscles, glutes, pelvic muscles, and muscles of your obliques and even the back.
Since this form of training works on the group of muscles that simultaneously stabilizes the back and the waistline, it enhances the core strength to a great extent.
Core strength is pivotal for overall fitness as it adds to your balance and vitality. It is important to improve your core strength not just for physical training but also for your daily chores.
4. Corrects Muscular Imbalance
Due to sustained or less serious injuries, many people suffer from muscular imbalance. Sometimes, people get these kinds of injuries also because of the hard work environment.
EMS provides an amazing solution to this. It enables particular muscle groups to be targeted which helps these injuries. Regardless of their level of fitness or age, this training does wonders for such muscular imbalances.
5. Reduces Cellulite
Cellulite is the deposit of tiny fat pushed through the skin. This is the bane of many people's existence and robs them of their mental peace and confidence. They look at it like a lumpy layer on the skin that feels ugly.
Many men and women alike struggle with cellulite issues and cannot find any plausible solution. The EMS training can help reduce cellulite. The training stimulates the muscles leading to the tightening of the connective tissue. When the tissue tightens, the skin also begins to tighten, providing you with smoother skin.
6. Posture Correction
Posture problems are the most common issues faced by people these days. There are various kinds of health issues that can come from posture problems. When you suffer from poor posture, you should not neglect it.
EMS training can further activate the postural muscles and stabilize these. It works on the overall strength of the body. This translates into the overall enhancement of your spinal health. It can further prevent back pain and possible back injuries.
7. Customizable
One of the major reasons EMS is preferred by many is because of its flexibility. EMS can be totally customized according to your requirements. Different people might have different reasons for taking this training.
This training can be accommodated according to individual needs. When you train under a regime that aims to work on your individually tailored requirements, you are likely to get a faster and more effective outcome.
Therefore, you must have understood why EMS training is highly efficient and beneficial for all. Start your EMS training today with renowned workout studios like Energy Gym and see these benefits for yourself!